Pintyplus spray primers are designed to help paint achieve greater anchoring on difficult low-porous surfaces or to help seal very porous surfaces which would otherwise absorb a lot of top coat. Spray primers also have other qualities, many of them are antioxidants helping to stop metal surfaces from degrading. They give the finish greater protection, resistance and durability.
Pintyplus has several primers. Each of them has specific characteristics and is more suitable depending on the surface to be primed. In this post we compare their different attributes…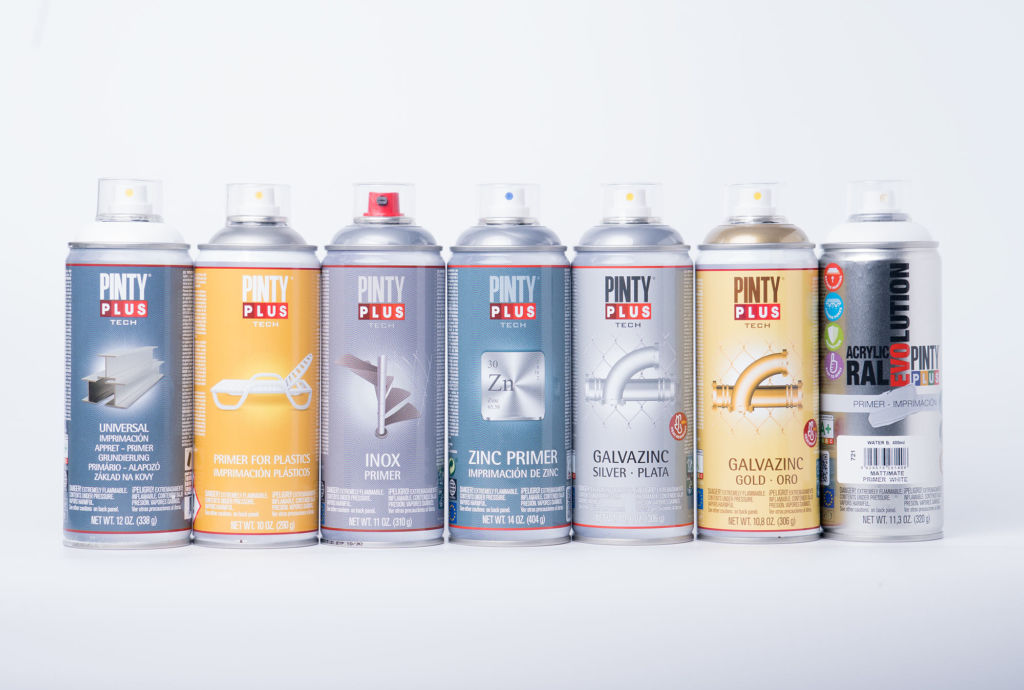 Pintyplus Tech Universal Primer
As its name indicates, this is the most versatile of the Pintyplus spray primers. It is suitable for any surface (except those more delicate, such as expanded polyurethane) and achieves excellent results on all of them. With this primer, you can achieve the benefits of enhanced anchoring and paint savings on surfaces such as wood, iron, aluminum, plastic, glass, etc.
It should be applied about 30 cm from the surface in thin and even layers. A single thin layer will already achieve the desired effect. This primer is available in three colors: grey, white, and garnet. It is formulated on a solvent base. It can be reapplied within an hour, or a topcoat of paint added after 24 hours. It resists high temperatures, has antioxidant power, and achieves anchoring, adherence, protection, resistance, and durability.
Pintyplus Tech Primer for plastics
Specially designed for low-porous surfaces such as most plastics, whether hard or flexible, but also glass. Gives the aforementioned surfaces a great anchoring and adhesion capacity. Formulated with a solvent base.
Should be applied 25 or 30 cm from the surface in thin and even layers. It has a yield of between 3 or 4 m2. Dries very fast: in 15 minutes. And it can be painted over as soon as it is dry to the touch, that is, from a quarter of an hour.
Pintyplus Tech Stainless Steel 'Inox' Primer
Acrylic primer containing stainless steel metal pigments. Perfect for priming all types of metals, with anticorrosive capacity. Can be used as an all-in-one primer and paint as long as you want to achieve a stainless finish.
It has excellent resistance to scratching and abrasion. Withstands temperatures of up to 100 degrees Celsius. Get adherence, anchorage, resistance and protection. It is long-lasting. A perfect solution to protect objects with a stainless steel look.
Pintyplus Tech Galvanic Primer
Like stainless steel primer, Pintyplus Tech Galvanic spray primers can also be considered paint whenever we want to achieve a galvanized type finish, either in gold or silver. It has excellent performance and versatility. It is made from aluminum and zinc. Delivers high protection, as well as anchoring, adherence and resistance to all kinds of hostile elements. Perfect for metal parts exposed to the British weather!
It should be applied 25 or 30 cm from the surface in thin or heven layers. Depending on whether or not we want to repaint over it, more or less coats should be applied. It has a total drying time of 15 minutes and we can paint over it from 30 minutes onwards. It resists up to 600 degrees Celsius in its silver version, and 200 in its gold version.
Pintyplus Tech Zinc Primer
High performance and highly specialized spray primer. The consumer favorite for work on parts that will be exposed to very unfavorable conditions, especially high levels of humidity. It is formulated based on zinc. It manages to avoid corrosion and oxidation of the object through its electro-chemical adherence.
It is specially designed to protect metal parts exposed outside to all kinds of inclement weather. It confers adherence, anchorage, resistance, protection and durability. Apply 25 or 30 cm from the surface. Its drying time is one hour and it can be painted over from that moment. Resists up to 600 degrees centigrade.
Pintyplus Evolution Water Based Primer
This spray primer is specially formulated to achieve anchoring for our new water-based Evolution range. It is formulated in matt White RAL 9010 . It has no anticorrosive power. It does not smell and does not contain aggressive solvents. It can be used both indoors and outdoors. In combination with paint and varnish, it provides objects and painted surfaces with high adhesion, anchorage, resistance and durability.
It should be sprayed 25-30cm from the surface in thin, even layers. It's touch dry in an hour in normal weather conditions (15 degrees Celsius and relative humidity below 60%). It can be repainted once the primer is dry.