Pintyplus - Tech - Universal/Ferric Primer - 400ml
Out of stock — Product Code: 1025
£11.50
Buy 3 or more for only £10.50 each
Buy 6 or more for only £9.75 each
Buy 12 or more for only £8.99 each
Buy 72 or more for only £8.50 each

All prices include VAT & UK mainland delivery
Out of Stock
Notify me when available
PINTYPLUS TECH - UNIVERSAL PRIMER
Pintyplus Universal Primer is a synthetic anti-corrosive primer (matt finish), free of chromium compounds and lead. Fast drying.
Universal Primer Applications
Ideal for protecting iron objects and materials, in any environment (humid, marine, industrial, etc.) achieving a longer duration and more economical use of the topcoat.
Choose this product to create a protective coating on all iron objects such as wrought iron garden furniture, railings, gates, bed frames and iron fireplace surrounds. Repels moisture in damp conditions, thus prolonging the life of the object and providing a more appealing surface.
Please note, this primer was recently rebranded. It was formerly known as 'Ferric Primer'. Some stock we send out will still have the old name written on the cans. However, the product is identical.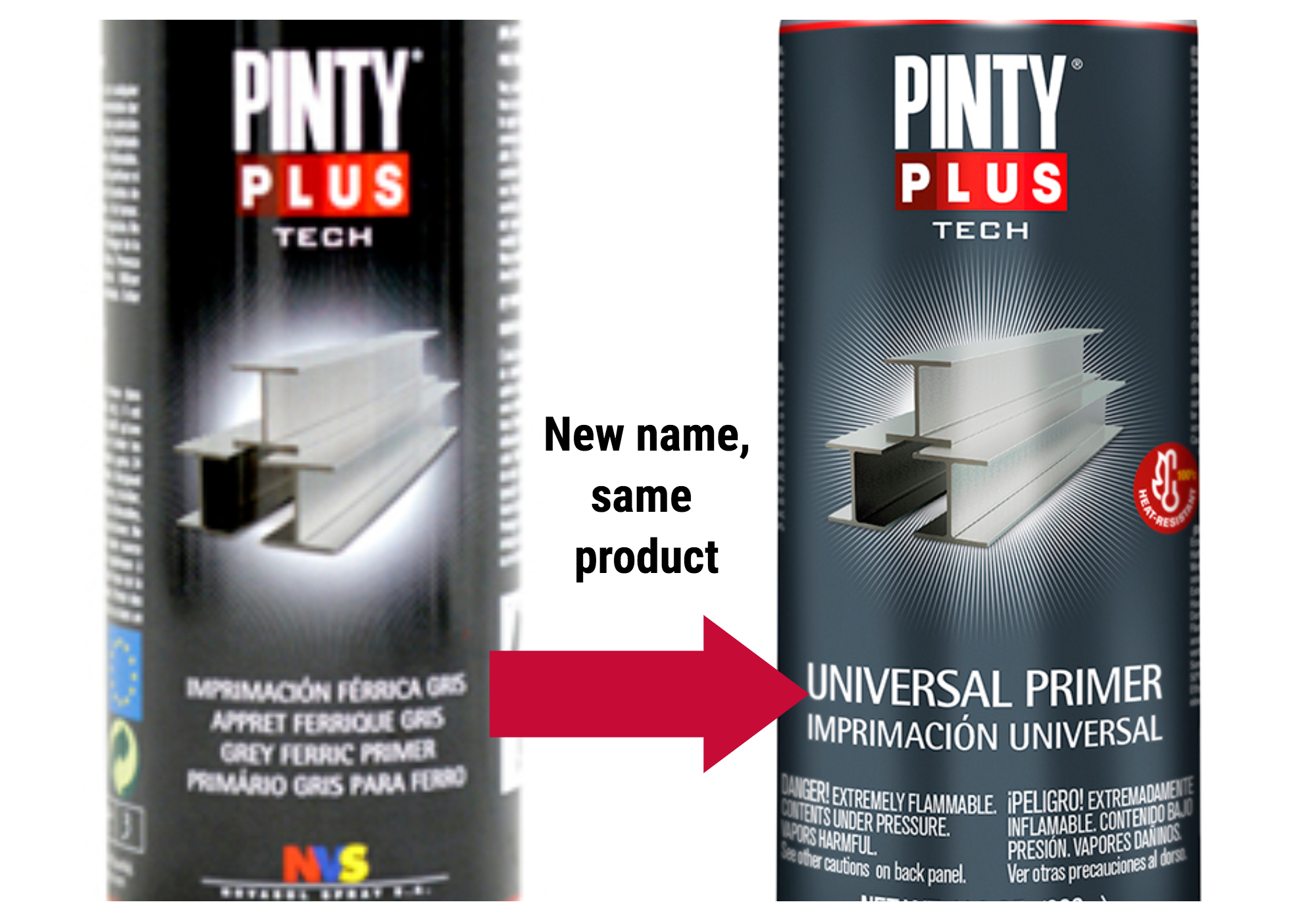 Technical characteristics:
Spreading: 200ml = 0.7 m2. 400ml = 1.4 m2
Drying time: 1 hour
Repainted: Before 1 hour or after 24 hours.
How to apply:
1. Ensure the surface is clean, dry and free of any contaminants before application. Shake the can vigorously for 1 minute.
2. Spray from a distance of 25-30 cm, applying thin and quick layers, first horizontally and then vertically. It is advisable to spray two thin layers instead of one thick layer in order to obtain uniform coverage and avoid paint runs.
3. Once the operation is complete, reverse the can and push the nozzle until only gas comes out in order to avoid blockage of the nozzle.
Do not use on devices connected to the power grid and apply in ventilated areas.
Tips:
For a coloured finish, over-paint it with Pintyplus BASIC or EVOLUTION.
If used on painted surfaces that are well adhered, lightly sand before applying. If the paint is flaking or bubbled, remove it before applying. We recommend using the Greenox paint stripper.
Safety data sheet
Colours
297 - Grey - I113