Do you have a Lloyd Loom chair at home that needs a makeover or perhaps some wicker garden furniture? We often get inquiries from people who have a piece of wicker or rattan furniture they want to paint but don't know where to begin.
Our advice is always the same. If you are planning to paint wicker, do NOT attempt to do it with a brush! If you've ever seen wicker painted with a brush you'll know why. Unless you are planning to spend a week doing it with a brush the size you would use for fine artwork, it is impossible to get a good finish. Firstly a brush will be unable to get the details of your furniture, but worse if you brush paint on, you'll find gravity will take effect and it will pool in the recesses of the design and you'll end up with an uneven finish.
If you want to paint wicker, use spray paint
Spray paint has several advantages over brushing on paint for this type of project. Firstly it's incredibly quick to apply. Each coat will probably take you less than a minute to apply, then we advise you to leave it about half an hour between coats before applying the next one. You can literally spray a coat in the time it takes the kettle to boil!
Secondly, because you are applying thin layers that you build up with each successive coat, you will get a very even finish.
Thirdly spray paint can reach parts than brushes simply can't. The fine mist delivered by a high-quality aerosol can penetrate the small spaces in the folds on the wicker, places that it would be impossible to reach with a brush
Which spray paint to use?
A few considerations when buying spray paint, because they are not all made the same.
Buy a paint with good pigment concentration. Cheap paint often has less pigment, It means you'll use less paint to get the same coverage
Buy a paint with a good nozzle. Not all paints have the same spray delivery system. A poor quality nozzle may result in inconsistent delivery of paint and overspray ruining the finished look
Look for water-based paint. It doesn't smell and is kinder to the environment

How much paint do you need for a wicker chair?
Most of our spray paints have a coverage of about 2m2 (check details on individual product pages to be certain) and we recommend 2 or 3 coats of paint. In addition, if you are using chalk paint, 1 coat of varnish or wax to finish. Every application of paint is slightly different and factors such as the absorbency of the surface, whether you are spraying outside and a customer's individual style of application can affect the quantity you use. However 2 to 3 cans of paint and 1 can of wax or varnish should be sufficient for this project.
A few suggestions from the Pintyplus range
We have a couple of different paints we'd recommend from our own ranges if you want to paint wicker furniture. They are all waterbased paints in high-quality aerosols.
Pintyplus Chalk Finish Paint – A matt paint with a chalky look that needs to be finished using either our spray varnish or spray wax. Perfect if you want the shabby chic or vintage look or if you want to distress your furniture. This paint is best suited to chairs that are mainly going to be used as decorative objects rather than ones that will get a lot of daily use.
Pintyplus Home – A brand new product we are launching winter 2019. Specifically designed for using on interior finishings and furniture. Has different size nozzles for spraying different size objects and comes in popular interior colours
Pintyplus aQua – Quick dry with a gloss finish. aQua was our first water-based paint and has bolder colours that the Chalk & Home range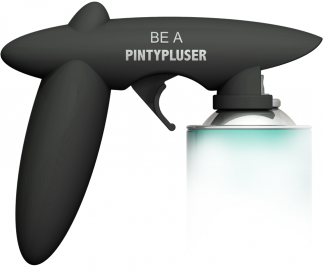 709 - Pinty Plus - Gun For Spray Paints
£8.99
View product
Pinty Plus - Chalk Spray Paint - 400ml
CHALK PAINT in an aerosol. Gives an ultra matt finish in a choice of 18 superb colours. Perfect on any surface!
£10.50
View product

Pinty Plus - aQua - Gloss - 400ml (520cc)
GLOSS finish water based. Respectful of the environment. RAL colors.
£11.00
View product