Apparently green is the colour of positivity, joy, peace and harmony! Green is also one of the easiest colours to match with interiors. These are two of the reasons why Mari Luz one of our Spanish bloggers picked mint green and vintage olive chalk paint to work with for this decorative project.
Combining green with natural elements in a home such as wood gives a harmonious and relaxing result. Read on for our step by step to show you how you can create a similar piece yourself.
Materials for this project
Pintyplus spray chalk paint in Mint Green & Vintage Olive
Pintyplus spray temporary adhesive
Pintyplus stencil
Pintyplus spray wax
Wood veneer for the background of the picture
Wooden frame moulding
Handsaw and mitre box
Stapler or assembly adhesive
Stapler to fix the frame
Masking tape
Cotton cloth to polish the wax
Cord or string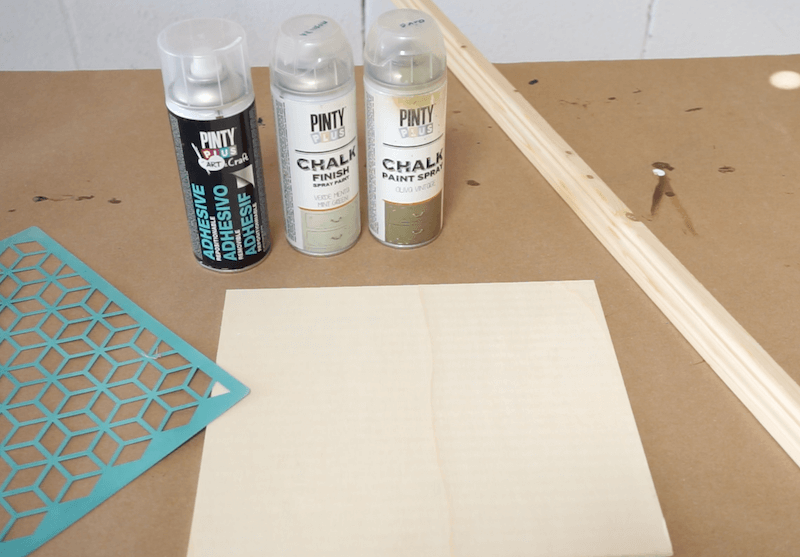 Making your own decorative picture is much easier and cheaper than you think with no expensive electric tools required. You only need a handsaw and a mitre box to create a custom frame.
(1) Paint and decorate the picture background
For the frame background, we are using wood veneer and we start by giving it a coating of Pintyplus spray chalk paint in Mint Green. The application of our spray paint is very easy just follow these simple steps.
• Shake the aerosol can for one minute after hearing the mixing balls start to move inside
• Keep the can about 20-25cm from the surface of the object you are painting
• Paint in thin layers making passes across the object from left to right and up and down. Several thin layers are better than trying to add too much paint in one go
In addition, we recommend using our spray gun to apply the paint. Instead of pressing with your finger on the top of the can it allows you to spray with a trigger motion which gives you more control and prevents fatigue in the hands. The gun doesn't need cleaning after use and will fit most brands of aerosol can. It's a great investment which you'll use time and again.
After waiting for the background colour to dry (which should take about 20 minutes) the stencil was sprayed with temporary adhesive, this keeps the stencil in place when we add the second layer of paint and ensures a perfect impression of the pattern.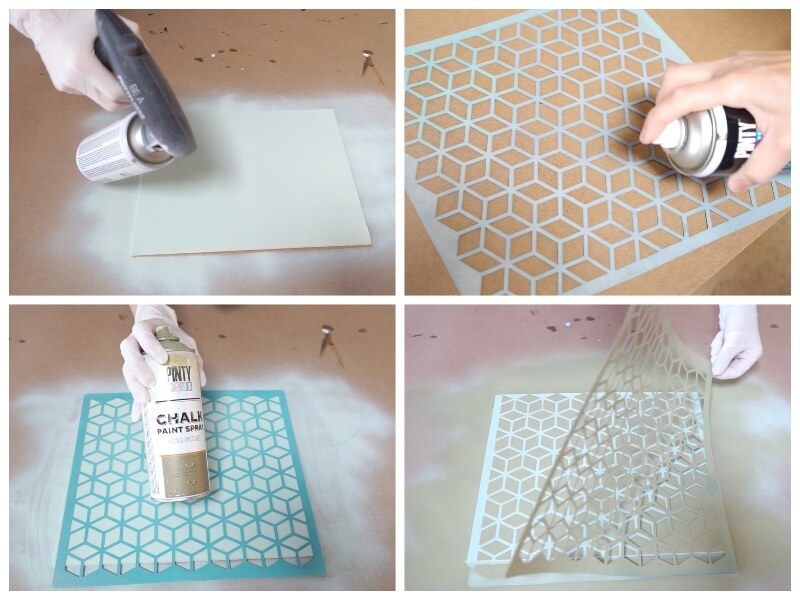 (2) Make and decorate the frame
The next step is to create the frame. We do this using the handsaw and the mitre box to cut 45 degree angles which can be joined with glue. You can then attach the painted backing board to the frame using either a staple gun or mounting adhesive.
Next the surface of the picture is covered with masking tape to protect it while the frame itself is sprayed with Pintyplus chalk paint in Minty Green.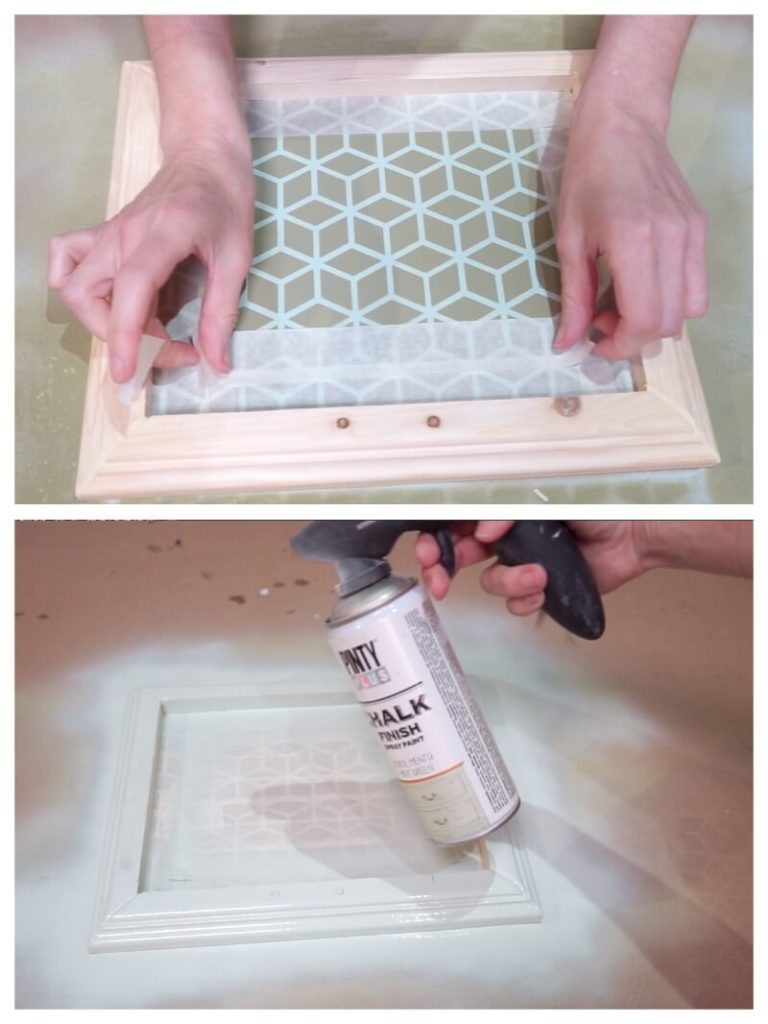 (3) Apply spray wax
Since the chalk paint is porous you need to apply a wax or varnish to protect it. For this project we have chosen our Pintyplus spray wax which is easy to apply and adds a clear protective layer to the surface of anything you have painted.
To apply the wax, spray over the surface and wait about 5 to 10 minutes to allow it to dry before you use a cloth to polish it.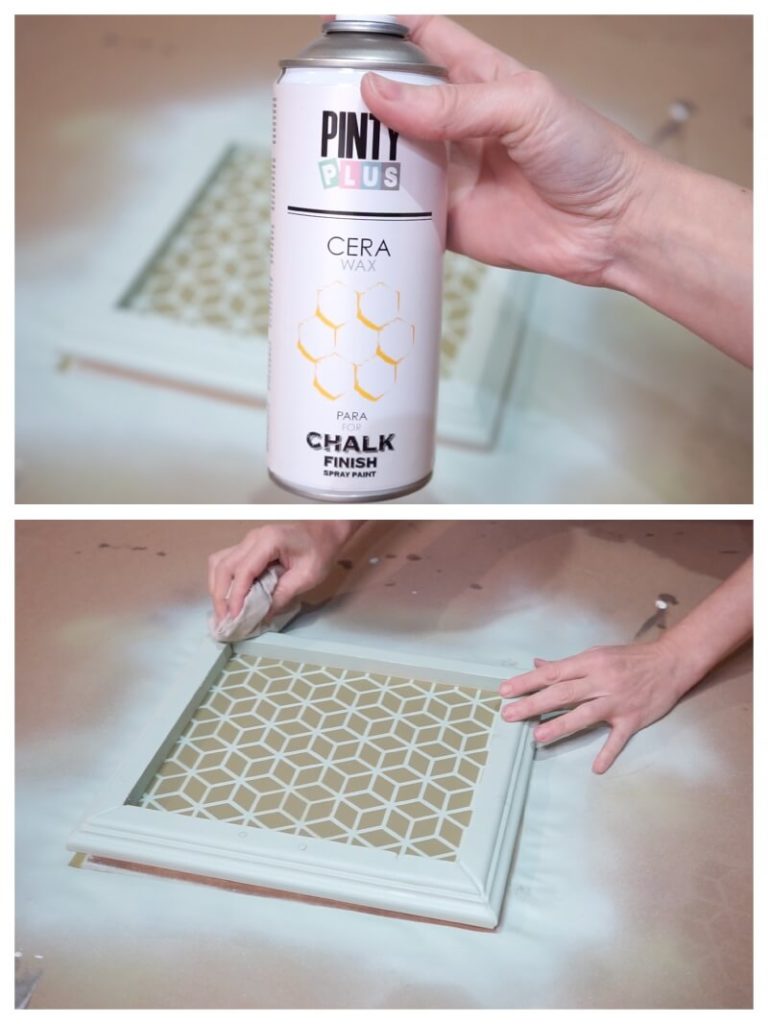 (4) Add details
For the final step, we are adding our decorative details which in this case is a wooden elephant. Mari Luz has chosen to hang him on a cord rather than sticking him directly on the background to give the image more of a 3-dimensional appearance. This also helps the wood to stand out against the green background.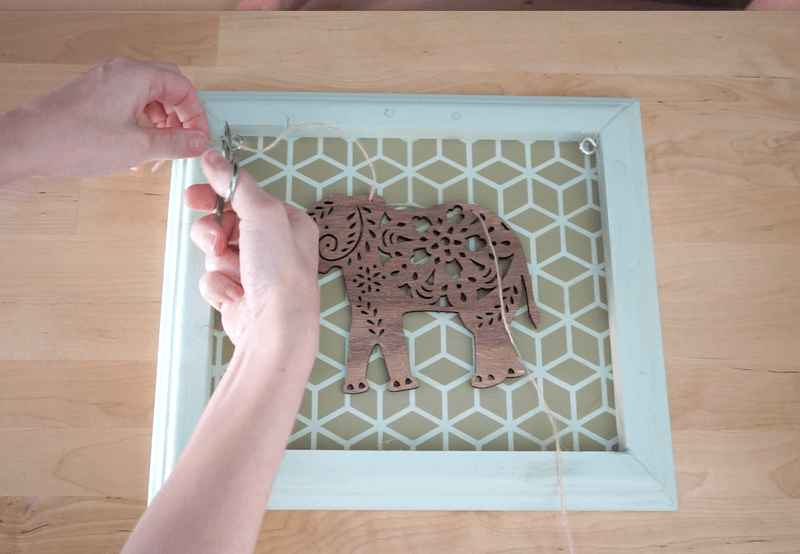 And here's the finished result hanging in Mari Luz's home.
Ready to shop?