Are you tired of the colour of your headboard, but it's in great condition so you don't want to spend money changing it? In a few hours you can transform the look of your headboard and refresh your whole room.
Paint helps us to renew and refresh the appearance of furniture without spending a lot of money and if you use spray paint you can achieve this transformation in just a few hours with a professional finish.
The owner of this headboard wanted to paint it because she did not want it to contrast so much with the wallpaper and she wanted to bring more light into the bedroom.
Considering that the headboard was in perfect condition and it was a pity to get rid of it, he decided that the best option was to paint it white. So he contacted our Spanish blogger Mari Luz of Bricoydeco. She only needed one afternoon and some cans of spray paint to change the chocolate colour of the headboard to the luminous white that the owner wanted.
Materials to renovate a metal bedframe
Cleaning alcohol
Protective paper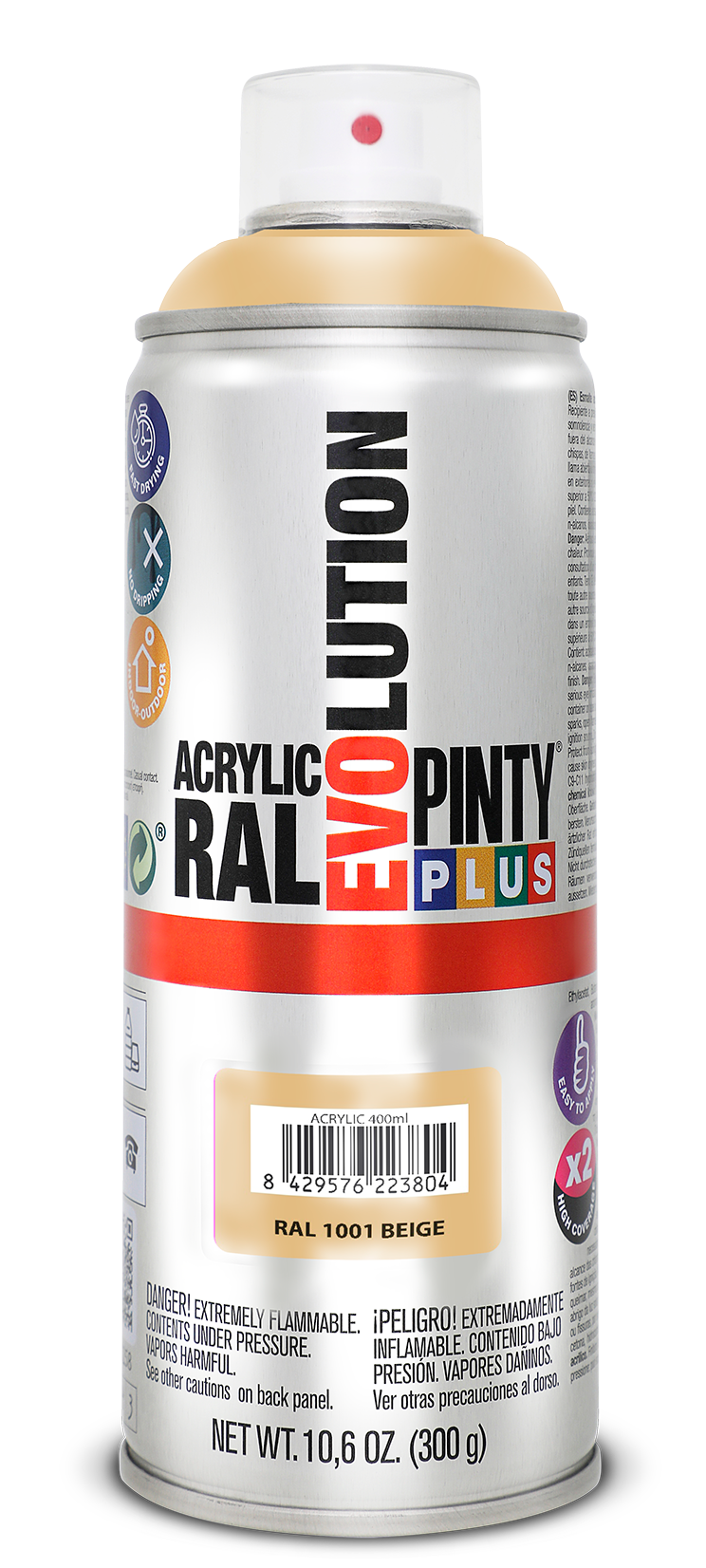 Pintyplus - Evolution - Gloss - 400ml
Extra-quick drying RAL Gloss acrylic spray paint. Suitable for use both indoors and outdoors.
£9.99
View product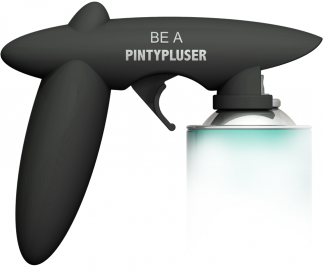 709 - Pintyplus - Gun For Spray Paints
£17.99
View product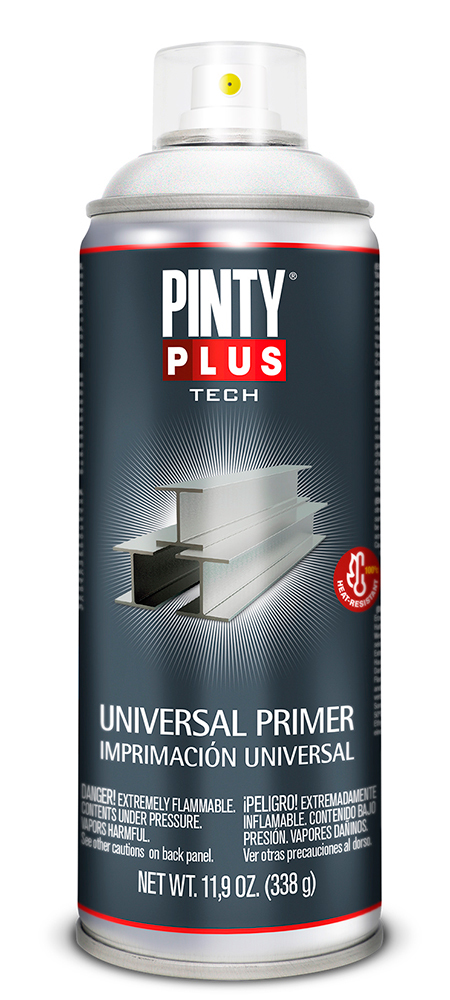 Pintyplus - Tech - Universal/Ferric Primer - 400ml
Anticorrosive alkyd primer. Mat finish. Free from chrome and lead components. Quick dry.
£11.50
View product
This headboard was in perfect condition and did not required previous sanding. Otherwise, a wire brush and sandpaper should be added to the list of materials to remove rust and level the surface.
How to paint a metal headboard with spray paint
1º.- Clean the surface
First, the surface must be  cleaned . To do this, it is recommended using a product that removes dirt, but does not contain waxes. For example, alcohol.
2º.- Apply ferric primer
The next step will be to apply Pintyplus Tech spray primer . This type of anticorrosive primer does not contain chromium and lead compounds. In addition, it is ideal for protecting objects and furniture made of iron or wrought iron. Thanks to it, a longer duration and better use of the finishing paint is achieved.
Its application is very simple, you just have to follow the following steps:
Shake the primer aerosol for one minute after the mixing balls sound
Attach the Pintyplus spray gun. This step is not essential but it makes the task of painting on large surfaces much easier, since it avoids finger fatigue.
Direct the first spray to a piece of paper or cardboard until the paint comes out evenly
Apply thin layers keeping the can at a distance of about 25/30 cm. Perform movements horizontally and then vertically until the surface is completely covered.
Once you have finished, clean the button by inverting the can and pressing until gas only comes out
Remember that if the metal is rusty you must remove the rust before you start. In addition, you can lightly sand the surface to improve the adhesion of the primer on a previously painted surface.
3º.- Apply the finishing paint
Once the primer has dried (less than an hour on a hot and sunny day), you can apply the finishing paint . For this, Pintyplus Evolution Acrylic paint spray in Signal White has been chosen .
It is applied exactly in the same way as the spray iron primer and its drying is ultra fast. It only takes 15 minutes for total drying and 5 minutes for repainting. However, for a correct grip and hardening, it is recommended to allow 48 hours to pass before subjecting the furniture to normal use.

Paint forging spray Pintyplus Tech, the alternative solution
This time we have shown you how to paint a metal headboard with ferric primer and Pinyplus Evolution, but our Pintyplus Tech spray-forge paint is an alternative solution .
Its main advantage is that it does two jobs in one, since it is a primer with anti-rust attributes and a finishing paint that produces an antique iron effect. You can find it in black, grey, green, blue or red.
Using it will further reduce the time needed to renovate your furniture, since you will only have to apply it and wait approximately one hour for it to dry.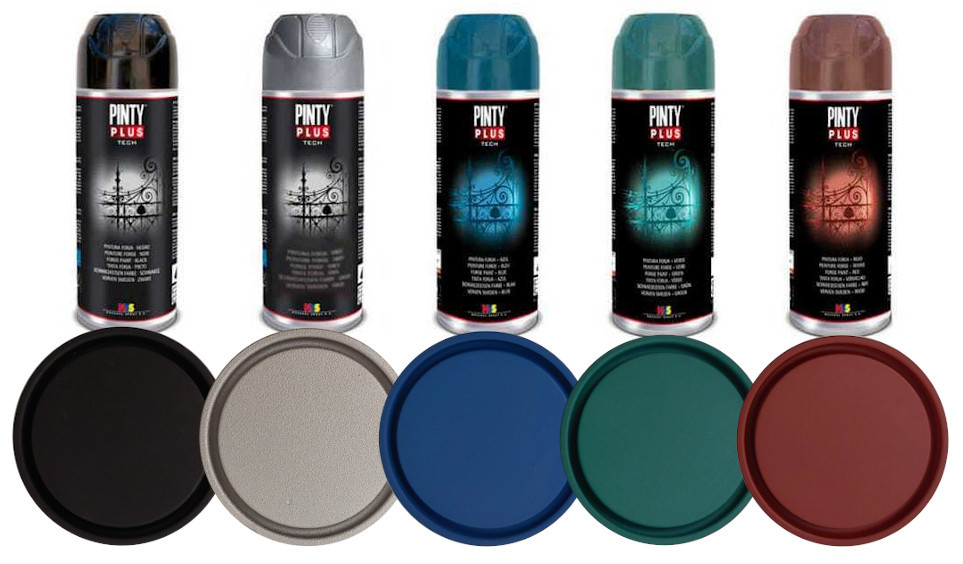 Pintyplus - Tech - Forge Paint - 400ml
Matt epoxi paint to decorate and protect metallic surfaces. 2 in 1: primer and finish. Excellent durability outdoors. Thick and tough finish which produces an antique iron effect.
£11.99
View product