If you have a tired outdated kitchen in need of a refresh spray painting the cabinet doors can be a quick and easy way to get a completely new look. In this post we look at one such makeover by Spanish blogger Olga Nieto from the blog El Rincón de la Creacion (The Creation Corner) and see how you can achieve a similar look yourself.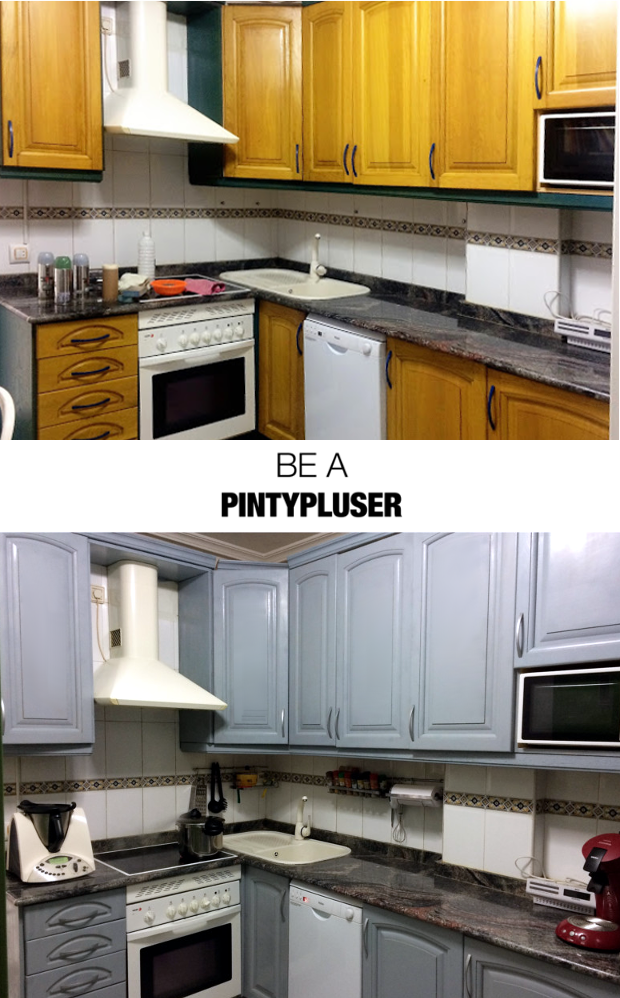 Which paint is best for kitchens?
When looking for a paint that is suitable for kitchen units you should search for one that resists steam, humidity, heat and daily cleaning. Units are usually made from wood or formica, in this case these cupboards were made from formica with a wooden appearance
How to paint kitchen units with spray paint
If the furniture is made of wood and is in good condition, it only needs to be sanded and painted, there's no need for priming or finishing varnishes. If the furniture is made from formica, in addition to sanding we will have to put a layer of primer before we paint
Materials:
Pintyplus Evolution spray paint.
Sandpaper.
Cleaning alcohol or similar.
Masking tape
Screwdriver to assemble and disassemble.
The first job is always to clean the surface of the units to remove any dirt which might affect the paint adhering or give an uneven finish. In the case of kitchen units it is even more important because of the amount of fat and vapors to which they are exposed to. Next we will sand the surface. This will serve two purposes, ensuring that there is no dirt or cleaning materials left on the surface and to open the pores of the wood to improve the adhesion of the paint.
The final step before painting is to remove the doors from the units and take the handles off.
We prepare the surface where we are going to paint protecting it with wrapping paper (or what you usually use). For this kitchen, the RAL 7001 silver-gray color from Pintyplus Evolution was chosen. Shake the spray well before using and start painting. Always thin and crossed layers. This is from top to bottom and from left to right. We wait for about five minutes and give the second layer the same as the first.
After 15 minutes the paint is dry and we can reassemble the kitchen.
Paint the kitchen table and chairs:
This tired pair chairs and uninspiring kitchen side table is given a new lease of life with spray paint. Olga painted the kitchen table with the same grey as the rest of the kitchen and the chairs in reseda green RAL 6011 to match the fridge.
BEFORE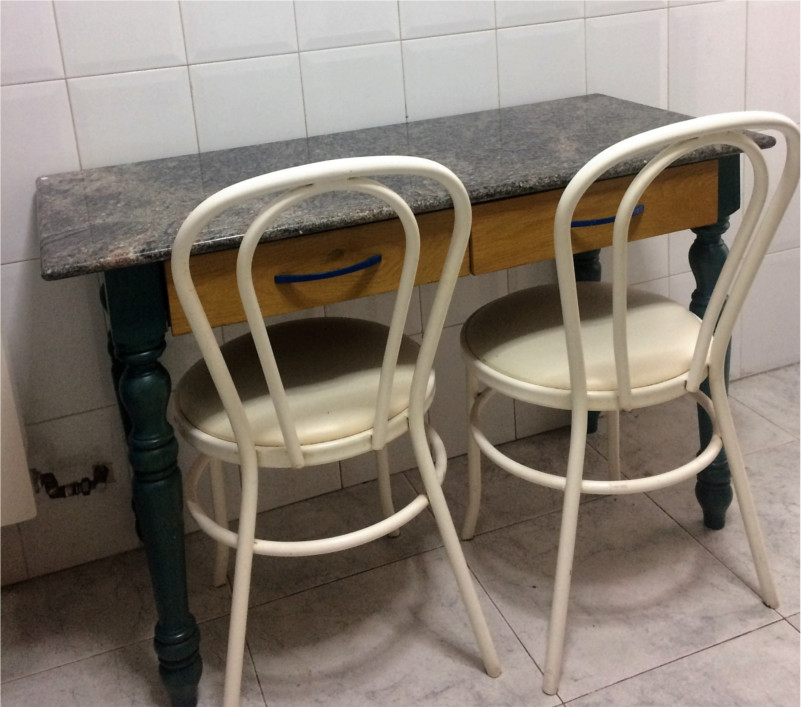 AFTER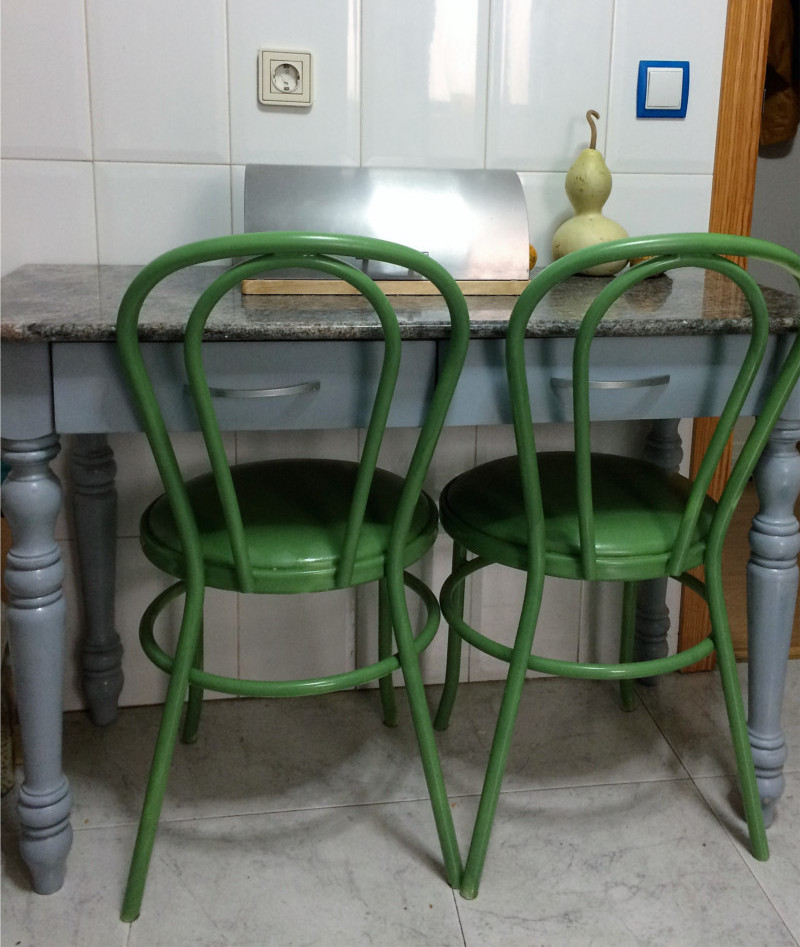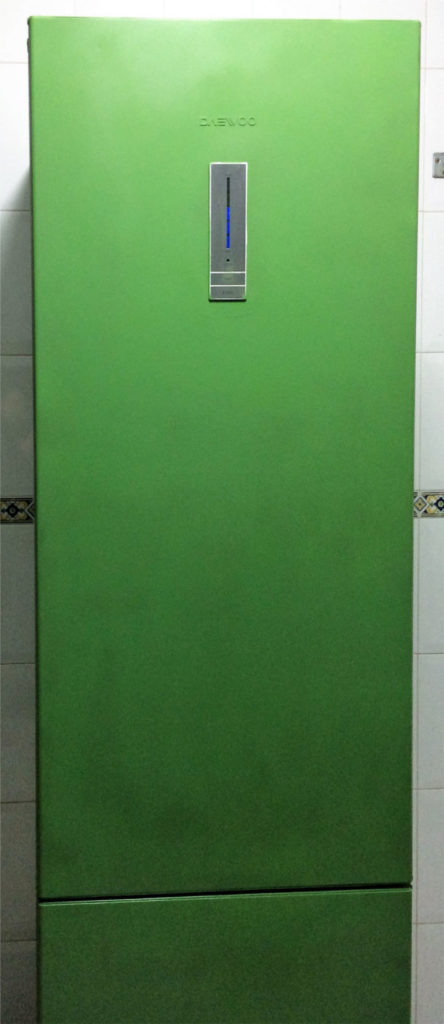 How many cans of spray do I need for my kitchen cupboards?
Each can of Pintyplus Evolution will cover approximately 2m2 with a single coat. You should allow for two or three coats. Therefore to work out how many cans you require, you need to work out the total square meterage of all the cupboard fronts and multiple it by two or three, depending on the desired finished result.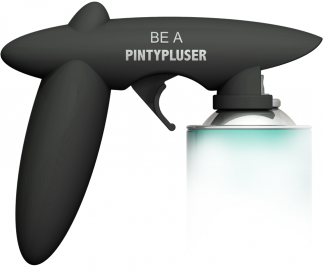 709 - Pinty Plus - Gun For Spray Paints
£8.99
View product
Pinty Plus - Evolution - Gloss - 400ml
Extra-quick drying RAL Gloss acrylic spray paint. Suitable for use both indoors and outdoors.
£8.00
View product