Have you ever tried to spray paint an object and had less than perfect results? Getting the perfect finish is dependent on several factors including, the type of paint, the surface it is being applied to and the technique you use. We sometimes find new spray painters are so excited to see results that they rush in without first checking application advice. In this blog post we look at how to get great results spray painting.
Pick your paint
At Pintyplus we have several different types of paint which are suited to different jobs and give a different finish. The paints in the Evolution range are designed to paint surfaces that require fast drying. They are available in gloss, satin and matt finish and come in a range of RAL colours making it easy to match your existing colours when repainting. Pintyplus Basic is our general all-rounder aerosol paint because it paints everything. It is formulated in bright satin and matt colours. It adheres well to any surface, has lots of flexibility when dry, is hard-wearing and great value for money.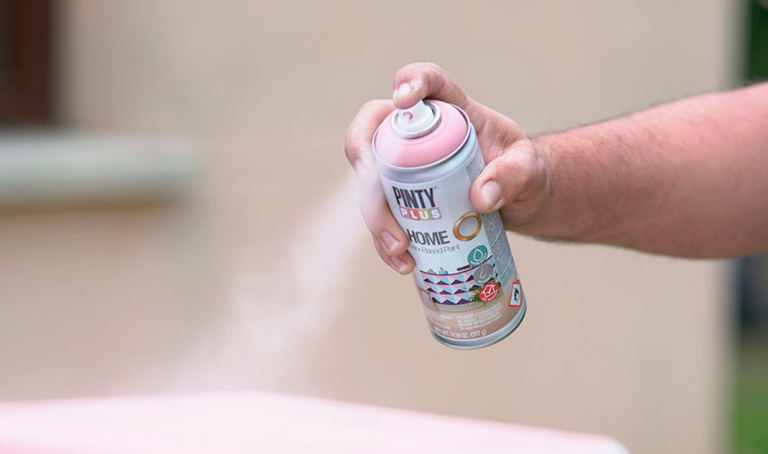 Pintyplus Home has been created to paint all the elements of your house. It covers any surface, is formulated with water-based resins, it doesn't smell, is comfortable and easy to use because it won't run. In addition, it is an economical choice because it covers up to three square meters. If you make a mistake, don't panic, you can remove Home with water in the first few minutes of application. Take your pick from 21 shades chosen by interior design professionals.
Our best-selling chalk finish paint is used by those who love the vintage or shabby chic finish to their designs. It has a silky-looking ultra-matte finish in a range of pastel shades including neutrals. Pintyplus aqua 2017 is our small format water-based paint for small projects with bright and cheerful matt colours, great performance and economical coverage.
The material your painting, primer and varnish
As we have often say, primer is a really important part of your project and we recommend that you use it for most paint jobs. It helps the top coat to adhere, seals the surface and results in a better finish. Allow primer to fully dry and cure for 24 hours before applying a top coat. Just as important as what we apply first is what we apply last. A good varnish (or wax if you use chalk paint) will help us protect the painting from inclement weather and the passage of time.
How to get results spray painting
The first thing to keep in mind is that there is a recommended spray distance for each type of paint. Some of our ranges are most effective at 20 centimeters away from the object and others at 30. Distance from the object is important to avoid paint running and to achieve uniform coverage.
It is advisable to apply thin and uniform layers, starting a few centimeters before the edge of the object and ending off the other side so as not to concentrate paint at any point on the surface. It is recommended to make the first pass horizontally and the second vertically or vice versa. For a perfect finish it is very important to respect the drying and repainting times.
One last tip, with spray paints, patience is a virtue. Rushing your project will not produce great results so take your time.